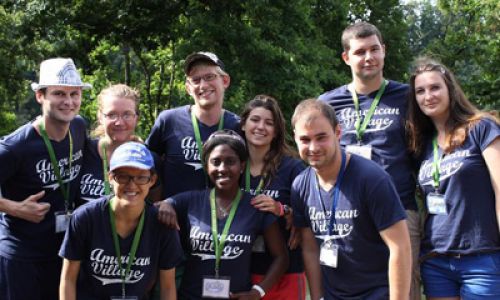 English study and volunteer
WHY LEARN ENGLISH?
Do you want to read Harry Potter in English? Interested in understanding songs of your favourite bands? Do you prepare a tour of the National Parks in the USA? Do you intend to travel around the world and be able to communicate in English? Having a passion for American films or soap operas? Interested in American history? Needing to use English at work? Looking for a job abroad? Do you have the project to study at an English or American University? Travelling to Australia or New Zealand for a gap year? Travelling to New York or Sydney? Needing to translate something from Spanish or French to English?
There are 1000 reasons why you may be interested in the English language! English is indeed nowadays a dominant international language in communications, sciences, business, entertainment or international relations.
English is a language originally spoken in England. This is the third largest language in terms of number of native speakers and the first language for most people in the Anglophone Caribbean, in Australia, Canada, New Zealand, in Ireland, in the UK and in the USA. It's a second langue for many people around the world and an official language in Commonwealth countries, as well as in international organizations. Over a billion people speak English at least at a basic level.

WISHING TO LEARN HOW TO SPEAK ENGLISH?
Learning English will offer you greater opportunity for your career and will allow you to travel around the world.
English is a so-called Anglo-Frisian language. This language belongs to the Germanic branch of the Indo-European family of languages. There are several accents and dialects of English around the world. English is also a stressed language and it may be a difficulty in pronunciation for non-native speakers. English grammar is very close to the other Indo-European languages. English vocabulary is vast and rich: an English speaker is in many cases able to choose between Germanic or Latin words: come or arrive; sight or vision; freedom or liberty for example! The English language uses the Latin alphabet in writing forms.

ENGLISH LANGUAGE CLASSES, TESTS AND EXAMS
Convinced? Are you beginner in English? Then have a look at our programs designed to help you to learn English in the UK, in Ireland, in the USA, in Australia, New Zealand or in Canada! We offer classes from Basic English to Advanced. Our teachers will help you to improve the four language skills: reading, speaking, writing, and listening!
If you already have an Intermediate level of English, don't hesitate to prepare English Language Exams in one of our language schools to let your skills and level recognized officially.
TOEFL: The TOEFL exam (Test of English as a Foreign Language) test measures the ability of non-native speakers of English to use and understand English as it is spoken, written and heard in academic settings. It is an internationally accepted measure of academic English proficiency.
TOEIC: The TOEIC exam (Test of English for International Communication) is the most widely used English language test for professional English and is used in more than 5000 companies worldwide.
IELTS: The IELTS exam (International English Language Testing System) also measure the ability to communicate in English across all four language skills – listening, reading, writing and speaking – for people who intend to study or work in English. The test is taken every year across 120 countries, and is one of the fastest growing English language tests in the world.
CAMBRIDGE EXAMS: This wide range of certificates for learners and teachers of English is taken by over 2 million people in 130 countries. They help people gain entrance to university or college, improve job prospects or measure progress in English.

LEARN ENGLISH NOW WITH NACEL!
Study English with Nacel! We offer our students several opportunities and locations to learn how to speak English.
Teenagers will enjoy staying with an English, American, Australian or Canadian homestay and get some English language lessons or have English courses on mornings and practice Sports activities on afternoons in our Summer Camp. They may also visit a High School in the USA, in Canada, Australia, New Zealand, Ireland or in England. Learn English in London, Dublin, New York, Los Angeles or Miami! Adults looking for an intensive course will rather choose our Home Lessons program or visit one of our English Language Schools. Students will improve their language skills and CV by participating in a job or internship program in Canada, UK, Australia or New Zealand!
Discover our wide offer right now!