A language school abroad is the most traditional option for learning a language. In our language school abroad, you will find language courses for young people and adults at all levels: beginner, intermediate and advanced. This program stands out for its great flexibility. You will have plenty of free time after class to do other activities. Travel alone or with a friend!
Accommodation is included in the language school program! You can live with a host family, in a student residence or in a shared apartment. Learn German, English, Arabic, French, Spanish or Italian with native teachers living in the country of your choice!
It is possible travelling abroad with the goal of learning or improving a new language in a few weeks with Nacel!
Travel and learn a new language abroad with Nacel!
Student profile for this program:
You are a:

high school student (from 16 years old)
adult who is/who's not in working life
retired person
university student
and you are looking for:
learning a new language abroad
improving a language abroad
living a new experience abroad
discovering a new place
meeting other international students
a program with great flexibility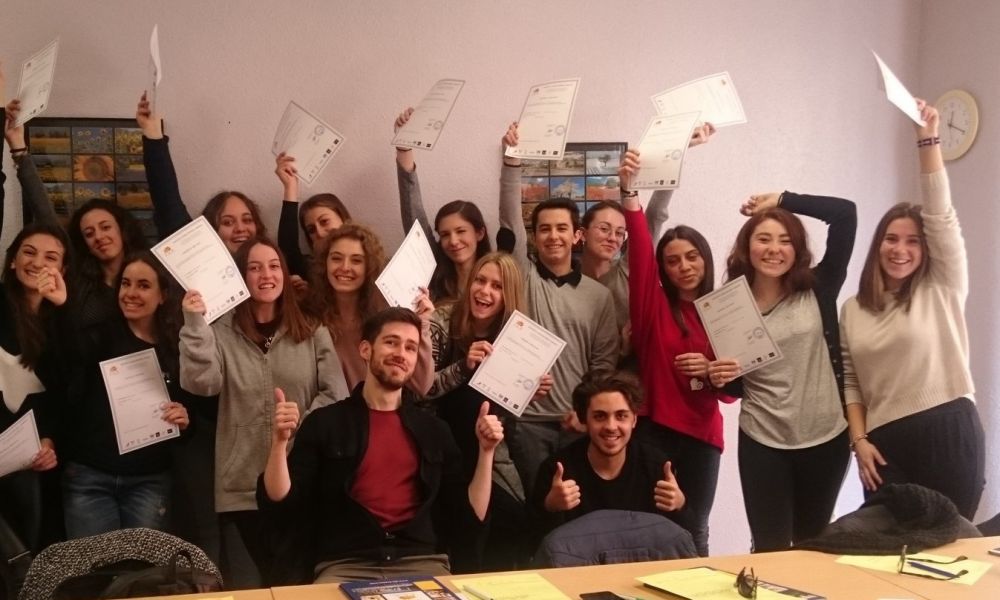 Choose a language, a country, a type of accomodation, and the dates when you'd like to travel. You choose you language school abroad.
You can travel from one week up to several months. The length of the program is up to you according to the period of time and budget you can spend to study a language abroad.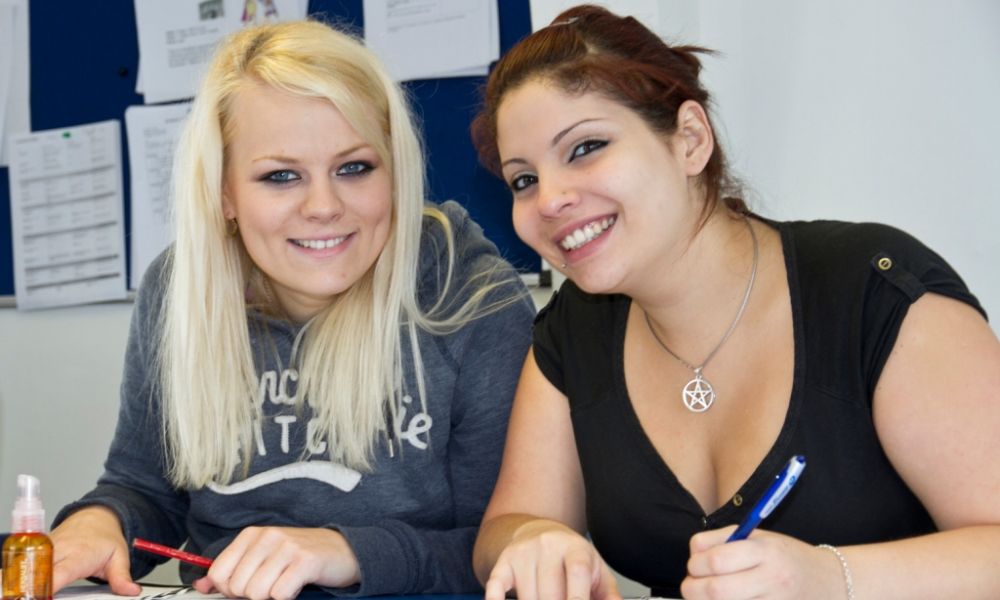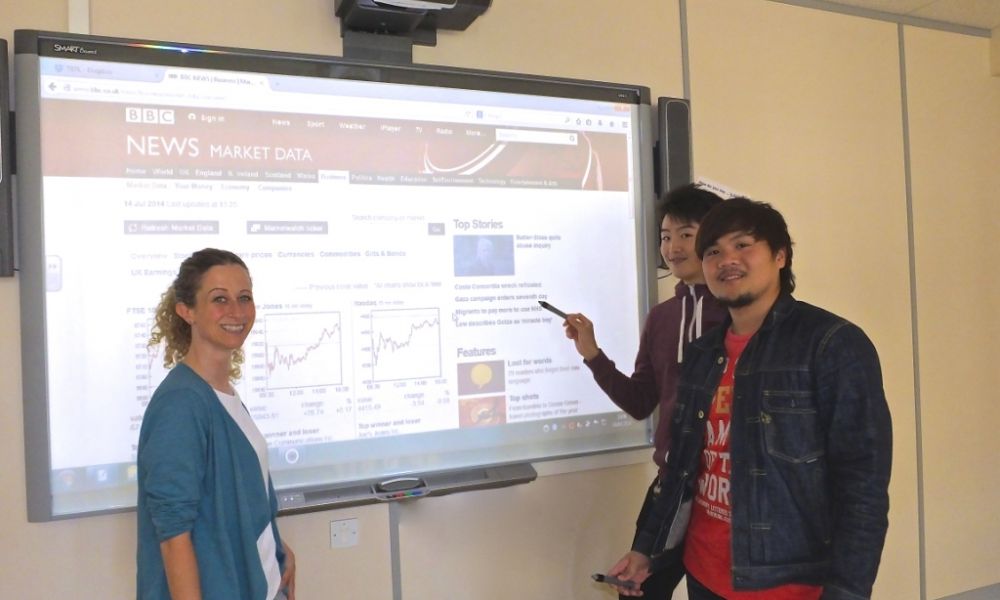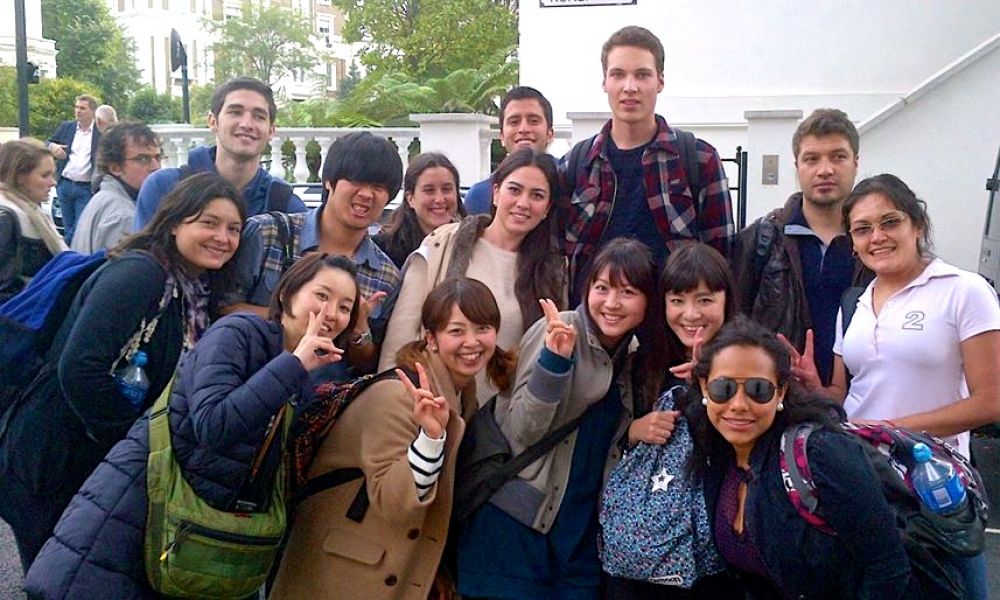 Language school program: Travel alone or with friends
We offer language courses at all levels (beginner, intermediate, advanced) with or without accommodation! From Monday to Friday, attend language courses during the mornings with other international students at a language school. During the weekends and in your free time you can do whatever you want!
Our language schools are highly reputed and offer a variety of language courses :
General language courses
Business language courses
Exam Preparation courses (for TEIC, TOEFL or Cambridge Certificate preparation)
A Language School abroad also organizes socio-cultural, excursions, visits and sporting activities. These activities are optional (free or paid activities). They often take place on afternoons and on weekends as mornings are dedicated to language courses.
As a general rule, the program starts with a language test which enables teachers to determine the participant's level on arrival. Courses can be organized in groups or for individuals only (one-to-one lessons). These language schools, generally open all year round, are well equipped with educational material.
The schools are accredited centers. Teachers at Language schools are selected carefully in order to ensure a quality program. Usually, they are native speakers and have experience in teaching the language abroad.

What will my routine be like during the week?
Arrivals are on Sundays in the accommodation of your choice. Classes are held Monday through Friday mornings or afternoons, depending on your schedule. After breakfast, you can take public transport to the language school.

At midday, you can buy your lunch near the school as there are street food restaurants, shops, grocery stores nearby or eat your packed lunch in a park nearby. If you don't have classes in the afternoon, we recommend that you organize your time well so that you make the most of your stay abroad. Remember to arrive in time at your host family's house for dinner (if it's included in the package)
How to choose the right language school abroad for you?
Choose the language
Choose the country
Choose the available city
Choose the dates of your travel
Think about: available type of course, weekly hours of language courses, and your budget
A Nacel agent will confirm the availability of the language courses for the dates indicated.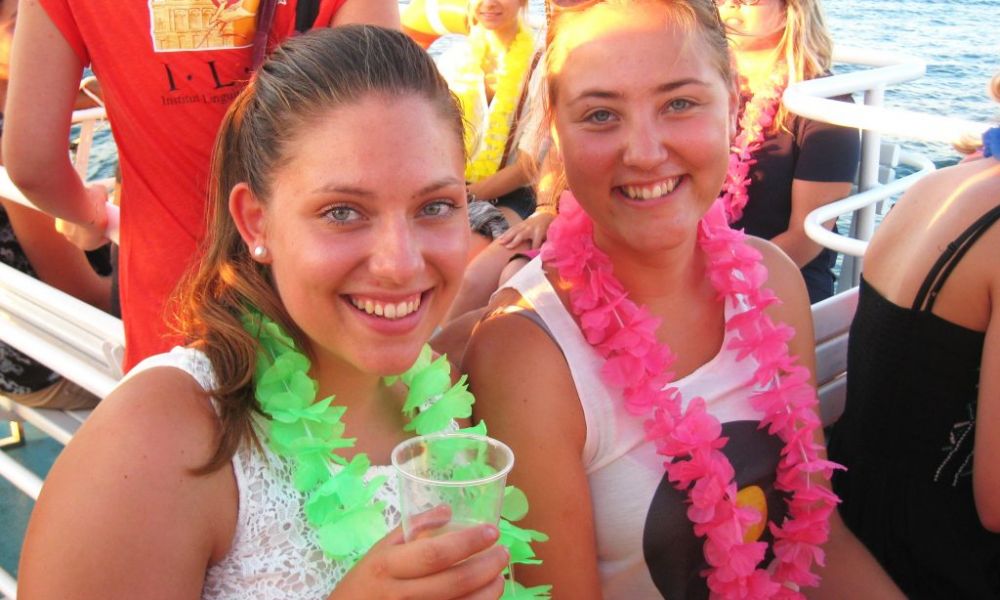 What can I do in my free time?
Activities are not included in the program but you can do an infinite number of things, as long as you remember to respect the laws of the country, the host family or the student residence and Nacel rules naturally! Some ideas are:
Revise/reread what you have learned in class

Sightseeing in the area

Eat in local restaurants

Going to the cinema, or going to the theater

Visit museums, monuments, shops, markets, etc

Hang out with new friends

Do a part-time job
Our top destinations
Our top school: our English school in London!
Best shopping cities: Learn Spanish in Barcelona, Learn Spanish in Madrid, Learn Italian in Rome, Learn French in Paris, Learn English in London, Learn English in New York, Learn English in Los Angeles
Best student destinations: Learn English in Oxford, Learn English in Cambridge, Learn English in Dublin, Learn French in Montpellier, Learn Japanese in Fukuoka, Learn German in Munich,
Sunny destinations for a nice summer abroad: Learn English in Malta, Learn English in Miami, Learn English in San Diego, Learn English in Sydney, Learn Spanish in Valencia, Learn English in Brighton
Best cities for visiting Museums: Learn Spanish in Madrid, Learn Spanish in Valencia, Learn German in Berlin, Learn French in Paris, Learn English in Toronto, Learn English in Boston,
Best destinations for being outdoors: Learn English in Malta, Learn English in Vancouver, Learn English in Auckland, Learn Spanish in Alicante,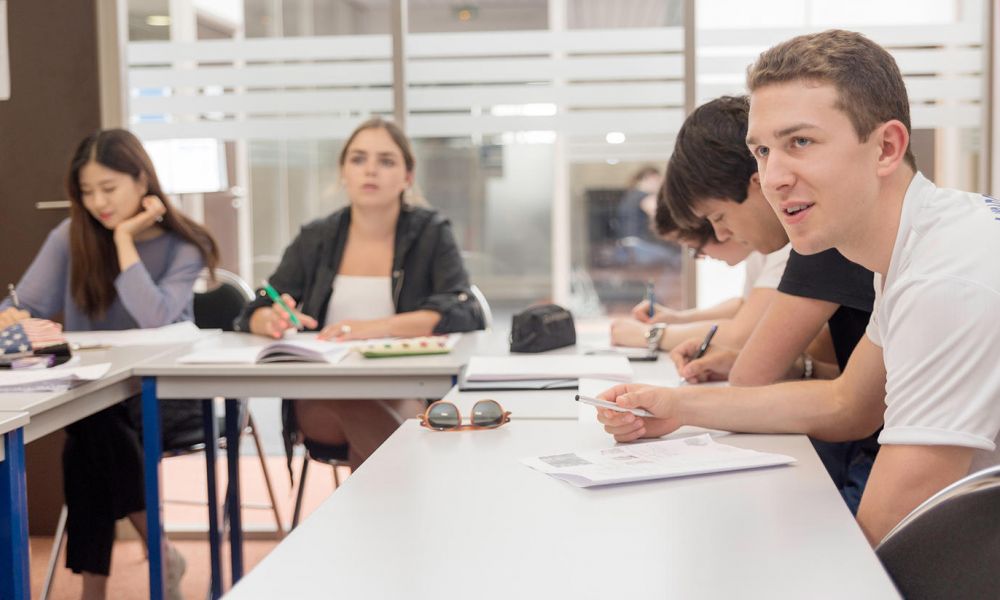 Looking for supervised language courses programs?
Language courses at language schools are for students and adults that are mature, independent, responsible and used to taking public transportation alone. If you are between 13 and 18 years old and you are looking for a language course program supervised, with accommodation and all meals, we have the following ones:
Invest in your education, take language courses abroad with us and travel cheaper and more local. Hundreds of students have already traveled with Nacel. You are welcomed in the Nacel's family as well! Watch videos on our Youtube Channel.
Fin the most suitable language school abroad with Nacel!
Frequently asked questions
What teaching methods does the language school use?
At language schools, teachers use the latest and most effective teaching methods to help students improve quickly.
Classes are typically small and interactive, with 10-15 students. Teachers encourage participation through questions, oral exercises, role-playing games, and real-life scenarios presented through videos.
Textbooks relevant to the course material are used, and the teachers adapt to the group's level and diversity.
Students have the option of selecting 20, 25, or 30 hours of classes per week, each lasting around 45 to 55 minutes.
For more personalized instruction, private teaching hours can be added to regular classes. All classes are taught by native speakers and taught in the chosen language from the first day.
How could I know about my language level?
If you are new to a language, you may fall into the category of beginner or false beginner, depending on your level of basic knowledge.
To determine your level, you can take an online language-level test. Additionally, language schools will assess your level before placing you in a suitable group.
Our language schools offer classes for all levels, ranging from beginner to intermediate and advanced.
Could I receive a diploma while studying in a language school?
You will receive a certificate of attendance and an assessment of your level at the end of your course.
You must take an official language test if you want or need to get a diploma. You may attend an Exam preparation course at the language school to prepare for the test.
The teachers at our language schools are very experienced with the tests and can give you all the guidance you need to achieve your goals.
Do teachers speak English?
In language learning, it is essential to have teachers who are able to communicate effectively in the target language. While some teachers may also be proficient in English, they prioritize using the target language as much as possible to help students immerse themselves in the language.

What does a typical day at the language school look like?
Classes take place Monday through Friday mornings or afternoons, depending on your schedule.
After breakfast, you can either take public transportation or walk to the language school, depending on your location.
Upon arrival, you'll join your classroom and meet your teacher, ready for a full day of engaging lessons with breaks in between to rest and socialize with your classmates.
Lunchtime offers a chance to try out street food from nearby restaurants, shops, and grocery stores while enjoying the company of new friends.
If you're free in the afternoon, we encourage you to take advantage of your stay abroad program. You could revise your class notes, explore the city and surrounding areas, join optional workshops or outings organized by the language school, or simply chat with your classmates to practice the language skills you've been learning.

Who are the students going to a language school?
Most language schools welcome students from the age of 16.
During the summer, most students are between 16-25 years old, as they have holidays and can dedicate time to learning a new language. However, between September and June, the student population of a language school may be more diverse.
There are fewer students aged 16-18, as they are usually in school, except during school breaks. Instead, the language school may have university students, professionals, and expatriates keen on improving their language skills and motivated to network with their classmates.
Where will I live if I study in a language school?
While you are taking our language courses, we offer a variety of accommodation options to suit your needs, including staying with a local host family, sharing an apartment, or residing in a student residence.
Our accommodation options may provide full or half-board meals, depending on your preference.
With our comfortable and safe accommodation options, you can focus on your studies and enjoy your stay to the fullest.

Could I prepare for a language exam in a language school?
Sure, you can prepare for your exam with confidence! Our Exam Preparation courses are specifically designed to help you succeed. Expert teachers will provide targeted training for your chosen test, while our language school staff will assist you with official test registration.

Will I need a visa to study in a language school?
It's important to know that you may or may not need a visa to study in a language school, and it all depends on:

Your origin and destination countries,
The course length.
Don't risk making any assumptions and contact us today to ensure you have all the necessary information to make an informed decision.
What are the benefits of studying in a language school?
If you're interested in acquiring proficiency in a foreign language, enrolling in a language school abroad offers a unique and immersive experience.

It involves complete integration into the country's language, culture, and daily life, providing continuous learning opportunities throughout the day.
The instructors possess extensive expertise and are well-equipped to teach individuals from diverse backgrounds, utilizing effective and modern teaching approaches to expedite your language proficiency.
Beyond the classroom, you'll have ample chances to practice the language during interactions with teachers, fellow students, and school staff and through various engaging activities.
When should I start a course in a language school?
You can start your course anytime during the year as our language schools offer a lot of flexibility.
While some schools may have specific start dates for beginners, you'll find that most offer the freedom to start whenever it suits you.
Just keep in mind that most language schools close during the Christmas/New Year period, so plan accordingly.
How much does it cost to study in a language school?
The cost of your language school abroad experience depends on a few factors, such as the number of classes you want to attend per week (ranging from 15 to 30 hours), the type of accommodation and board you choose, and the length of your stay.
If you already have accommodation, you may only book a language course. Or else, our language school offers assistance in booking a comfortable stay with either a host family, flat, or student residence.
We're confident that you'll find an option that fits your needs and budget.