Junior Language Courses Canada
If you are between 13 and 18 years old and would like to participate in a program that includes: English courses and activities abroad, Nacel has the ideal program for you!
The English courses and activities in Toronto consist of classes in the mornings and activities in the afternoons, a very structured program for you to spend an excellent and safe summer in Canada with Nacel International!
For 3 weeks, you will be able to improve your English in classes, on excursions and at your host family's home. Yes, accommodation is also included: you will live with a Canadian family so that you can make the most of this English homestay with activities.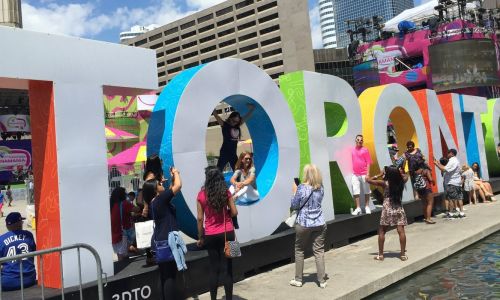 From 13 to 17 years old
Language : English
Length : 3 weeks
Price from :

2990 CAD
Nacel Junior Language Courses Canada highlights
ELIGIBILITY : 15 to 17 years old.

DESTINATION : We offer English language courses in Canada. You can have English language courses in Ontario. Discover Canada thanks to our English Language Courses!

LENGTH : 4 weeks language course during July and August, 3 weeks English language courses in June

LANGUAGE COURSES: This English language courseoffers participants a more structured opportunity to improve language skills, by grouping 4 to 5students together in a tutorial format.Native teachers are selected for their skills in teaching the hostcountry language, their relationship with young people, andenthusiasm for sharing the country's culture. English language courses are held onweekday mornings either in the teacher's home or in a host family. Afternoon excursions are designed to build on the skills learned during class time.

TUITION : English language courses are held in the morning (a total of 12 hours per week) and afternoons are devoted to tutor-led excursions. Aweekly full-day activity completes the English language courses program. The format of theday is: 3 hours language with the tuition, lunch shared togetherunder tutor's supervision and 2 and a half hours afternoon fieldactivities. So for two weeks sessions, students have a total of 48 hours language exposure with their tutor on a 3 weeks stay.

FIELDS ACTIVITIES: During the afternoon, the students and the tutor go on field activities. This may be a trip to an historical center, a museum, a local school, the Town Hall, sports, meeting with young Canadian, bowling, shopping mall,visit to Toronto, Niagara's falls, attraction park... You will be able to discover the Canadian culture and way of life during your English language courses program.

ACCOMMODATION : During the English language course, students stay with their canadian host families, withwhom they spend evenings and weekends.Participants often use the English Language Courses as a stepping-stonebefore resuming High School. It is an excellent way to brush upon their language before going to school and to have some fun at the same time. All host families provide full room and board. Our English language courses allow you to improve your English while having fun in Canada !


DATES : Students must arrive on the fixed arrival date at the airport indicated
Canada is the world's second-largest country by total area, occupying most of northern North America. Inhabited first by aboriginal peoples, Canada was founded as a union of British and former French colonies. Canada gained independence from the United Kingdom in an incremental process that began in 1867 and ended in 1982.
Extending from the Atlantic Ocean to the Pacific Ocean and northward into the Arctic Ocean, Canada shares land borders with the United States to the south and to the northwest. Comprising ten provinces and three territories, Canada is a bilingual and multicultural country, with both English and French as official languages at the federal level.
Canada is a multicultural country with people from all over the world who have now made Canada their home. Ethnic Groups (wholly or partly): North American Origin 40%, British Origin 33%, French Origin 16%, Other European 29%, Aboriginal peoples 4%, South, East & South-East Asian 9%, Other (mostly Caribbean, Arab, African, Latin/Central/South American and West Asian) 6%. The total comes to more than 100% because many Canadians (approximately 38%) have a mixed background.
AREA: 9,984,670 million sq km
CLIMATE: Varies from temperate in south to subarctic and arctic in north
POPULATION: estimated population) is 31.5 million (2006)
RELIGIONS: Roman Catholic 42.6%, Protestant 23.3% (including United Church 9.5%, Anglican 6.8%, Baptist 2.4%, Lutheran 2%), other Christian 4.4%, Muslim 1.9%, other and unspecified 11.8%, none 16% (2001 census)
LANGUAGES: English (official) 59.3%, French (official) 23.2%, other 17.5%
GOVERNMENT TYPE: Constitutional monarchy that is also a parliamentary democracy and a federation
CAPITAL: Ottawa
CURRENCY: Canadian dollars
NATIONAL HOLIDAY: Canada Day, 1 July (1867)
GDP PER CAPITA (purchasing power parity): $33,900 (2005 est.)
France = $29,600 (2005 est.)
USA = $41,600 (2005 est.)
China = $6,800 (2005 est.)
Bresil = $8,300 (2005 est.)
Book our English Language Courses in Canada. If you wish to improve your English, discover Canadian culture and have fun with other teenagers, our Language courses in Canada are the right choice for you to make!